Feast of St. Thomas was celebrated at St. Thomas Cathedral, Calcutta from 20th to 22nd December, 2013.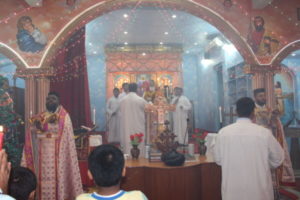 Flag was hoisted on 15th December by Rev. Fr. John Jacob, the Vicar.
The main feast was on 22nd December, 2013. H. G. Dr. Joseph Mar Dionysius, the Metropolitan of Calcutta Diocese was the main celebrant for the Tri-Mass (Mooninmel).
Cross Procession (RASA) was held after Holy Qurbana in a traditional way. Rev. Fr. Jobby Peter and Rev. Fr. Jeffin Varghese were the co-celebrants.
The Anniversary of Spiritual Organisations of the Cathedral and Christmas Celebration were held after Holy Qurbana. His Grace was the main Speaker.