Brief History of our Church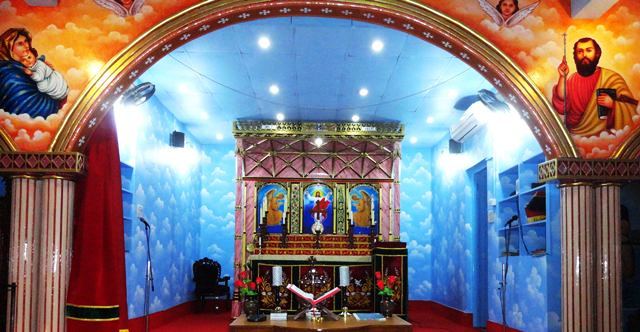 Our parish came into being in 1947 as a unit of the newly formed outside Kerala Diocese, under the late H.G. Alexios Mar Theodosius.
For the establishment of our parish, the then vicar Late Rev. Fr. C. A. Abraham was instrumental.
In the beginning the services were held at Armenian Church. In the year 1951 the late Catholicose H.H. Baselios Geevarghese II visited Calcutta and celebrated Holy Qurbana in the Armenian Church and ordained some students who were studying in Bishop's college, Calcutta, as deacons.
In the year 1952 H.G. Alexios Mar Theodosius visited our parish and with his efforts and support, regular services were organized in the Armenian Chapel, Park Circus under the then vicar Late Rev. Fr. V. J. Gabriel.
It was in the year 1961, a plot for the present church was purchased and under the dynamic leadership of the then Vicar Rev. Fr. M. V. George (now H.G. Geevarghese Mar Osthathios).
The foundation stone of the church building was blessed on Easter Day of April 1962 by the then diocesan Metropolitan H.G. Mathews Mar Athanasius (Late H.H. Baselios Marthoma Mathews I) at 19, Smith Lane, Kolkata.
On 21st church was consecrated by H. G. Mathews Mar Coorilos Metropolitan (Late H. H. Mar Thoma Mathews II). The same day Charitable Dispensary was declared open by Late Bijoy Singh Nahar, a Minister in the Govt. of West Bengal.
CB&CD Fund was established aimed at the progress of the parish in the year 1954 under the leadership of the then vicar Late Fr. C.V. John. It was aimed at doing charity for the people in need.
In the year 1993, our parish purchased a plot with 10 graves at the Bhawanipore cemetery under the leadership of Rev. Fr. G. Varghese .
Our parish was elevated and declared as a Cathedral on 11th
H.H. Moran Mar Baselios Mar Thoma Mathews II, in the presence of late lamented H.G. Stephanos Mar Theodosius.